Introduction
In this modern era, it is undeniably that underground storage tank has its strong demand among engineering and oil & gas industries. Steel and fiberglass reinforced plastic (FRP) are two main materials used to manufacture the underground tanks. Thus, it is crucial to understand the significant difference between the properties of steel and fiberglass reinforced plastic in order to achieve the most ideal tank performance.
Mechanical Properties
Stress
As the underground storage tank was buried until a certain depth, loads such as the traffic and soil loads push down and exert forces onto the tank. Groundwater exert forces on the bottom part of the tank during rainfall, and pressures formed during the content filling and withdrawing process. Steel is the great choice due to its high performance and ability to endure high stresses with fracture as comparing with fiberglass reinforced plastic (FRP).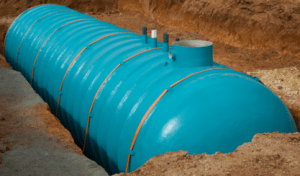 FRP Underground Tank
Ductility and Brittleness
Steel has great ductility as it stretches about 15 times more than fiberglass reinforced plastic. This shows that buried steel tanks are able to withstand loads from high groundwater levels and heavy vehicles better than fiberglass reinforced glass, a brittle material. On the other hand, steel tanks outperform fiberglass reinforced plastic (FRP) in terms of safety under severe conditions like extreme temperature changes, lightning strikes and earthquakes.
Impact Strength and Elasticity
Steel has also great impact strength whereas fiberglass material performs poorly in terms of impact strength. Steel performs elastically as a significant load is exerted, and it returns quickly to its original form as the load is removed. Steel exhibits fully elasticity as long as the applied stress remains below the steel's yield strength. However, fiberglass reinforced plastic (FRP) is rigid and subjected to time-dependent strain, it weakens over time as force is exerted.
Hardness
Hardness implies the material's resistance towards indentation. Thus, an inadequate hardness may indicate the incompatibility with the products stored and further induce leaking or even evaporation. It is crucial to regularly measure the hardness level of an fiberglass reinforced plastic (FRP) tank so that it remains consistent over time. However, penetration of sharp objects towards steel tank can be resisted because of steel's ductile nature.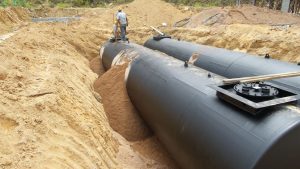 Steel Underground Tank
Structural and Tensile Strength
Steel has greater structural strength over fiberglass reinforced plastic (FRP) and steel is able to support heavy equipment under severe conditions. The significant difference between steel and fiberglass is that steel has greater compressive and tensile strength. Thus, this provides steel a better strength-weight ratio and it is the ideal choice for fueling stations which need to support heavy equipment.
Weight and Cost
Fiberglass reinforced plastic (FRP) is lightweight material as comparing with steel because FRP tanks weigh four times less than steel tanks. This provides FRP to have a greater advantage over steel in terms of transportation, loading and unloading process of tank. Thus, FRP requires less labor and equipment during installation and removal process, and makes them cheaper in terms of transportation. However, the weight of tank will only significant as the tank volume exceeds 100 KL.
The price of aggregate steel fluctuates with the price of gasoline. Steel is sold by pound and this allows the manufacturer to purchase and produce the steel tank at a fair market price. On the other hand, fiberglass tanks cost more due to its expensive production cost. However, the installation cost of a steel tank can potentially exceed the upfront cost of a fiberglass tank.
Conclusion
Steel outperforms fiberglass reinforced plastic (FRP) in term of its mechanical properties whereas FRP gains the advantage over steel in terms of its weight and cost. Therefore, there are numbers of significant factors need to be taken into consideration while selecting the material and type of an underground storage tank. Double Wall FRP jacketed steel underground storage tank significantly integrates the advantages of both steel and fiberglass reinforced plastic.
For more information, kindly refer CN Asia official website and click HERE to contact us.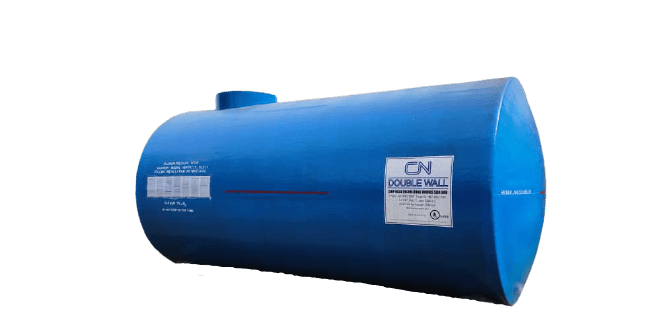 FRP Jacketed – Steel Tank
| | | | |
| --- | --- | --- | --- |
| | FRP Tank | Steel Tank | FRP-Steel Tank |
| Ability to Withstand Stress | Moderate | Good | Excellent |
| Ductility | Moderate | Good | Excellent |
| Impact Strength | Moderate | Good | Excellent |
| Elasticity | Moderate | Good | Excellent |
| Hardness | Moderate | Good | Excellent |
| Structural Strength | Moderate | Good | Excellent |
| Tensile Strength | Moderate | Good | Excellent |
| Weight | Excellent | Moderate | Moderate |
| Cost | High | Low | Moderate |