Due to the growing demand for dish ends, Chip Ngai invested in high-end machines and currently manufactures dish ends for the global market as well.
In the field of dished head for pressure vessels and tanks, Chip Ngai has the most complete size range capability (in terms of thickness) in the country. The company take pride in having produced and delivered dished heads of 7.64m diameter in one piece by cold forming. Its expanding expertise also includes hot flanging of dished heads to 63mm thick as well.
Chip Ngai's capabilities with a wide variety of materials specifications is unmatched Chip Ngai offers head materials specifications such as carbon steel low alloy steel, stainless steel and clad steel.
Chip Ngai can also supply head plates for ASME "U"-stamp pressure vessels with certified data reports under Form U2-A of the ASME Code.
Elliptical shape head is designed in a 2:1 ratio, also known as 2:1 head. S.E head features a half ellipse, so its head depth is usually quarter of its diameter.
This head shape is economical and suitable for high pressures owing to its height to weight ratio. S,E head has radius varying between the minor and major axis in the ratio of 2:1. This varying ratio allows it to hold gases or fluids at high pressure.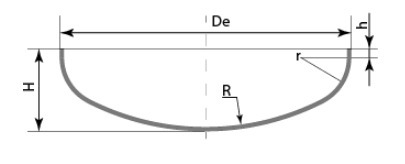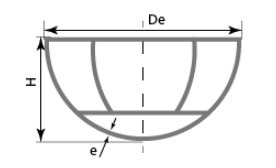 These heads have a radial geometry, where the head depth is half the diameter. These storage heads feature two pressure heads that are placed back to back, thereby creating a storage sphere, which efficiently stores materials at high pressure. Hemispherical heads feature thinner heads than shell and use a standard code 3:1 that taper during the transition.
Normally, hemispherical heads are formed using welded sheets rather than flat sheets used in other head types mentioned here. These heads are recommended for applications that demand high-pressure storage or large diameter vessels.
These heads have flat surfaces, which makes them ideal for applications that demand flat inside surfaces. Flat heads are considered ideal for no pressure applications, when used for pressure applications, these pressure vessel heads may be quite expensive than other heads discussed here. This is why flat heads are mainly used for holding tanks or storage tanks that store materials at no pressure.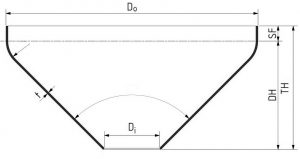 Toriconical cones consist of a knuckle and a straight flange, which allows it to fulfill ASME specification depending on diameter, included angle, and knuckle radius.
Bevels, tapers, and land zones can be provided to help with further fit-up and welding.
Normally used for bottom of small cylinders.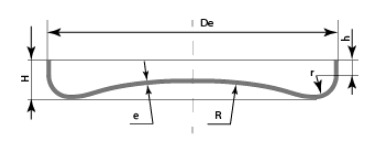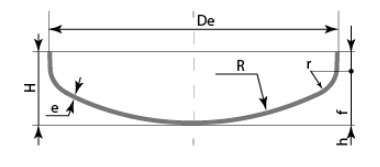 Sometimes used for pressure vessels of higher pressure rating than 2:1 elliptical head.